Flexible Instruction Day
There has been a change regarding inclement weather days. The Pennsylvania Department of Education (PDE) approved the use of a Flexible Instructional Day (FID) as an alternate form of instruction in place of a day that was formerly a school closure due to inclement weather or emergency.
A FID will be an official school day and attendance will be taken. Students will follow their remote learning schedule which can be found below. Wilmington Area School District has been approved to use up to a maximum of five (5) FID for the 2022/2023 school year.
Notification:
The district will issue a notification that a FID will be used via an all-call, text, the WASD website, and Facebook following the same timeframe that school cancellations are typically announced. When inclement weather is anticipated, building principals will inform staff and students that they should prepare for a possible FID. Families will be given as much advance notification of a FID as possible.
NOTE: It is possible that a snow day may not be deemed as a FID day based on the severity of the weather situation (for example, the potential for power outages or loss of internet). Please listen carefully to the message from the District regarding the school closure.
On a district FID day, all schools and district offices will be closed. Teachers will not be teaching from schools/classrooms. All staff will be available via email.
Attendance:
Teachers will instruct classes as scheduled through Google Meets. Students are expected to attend all classes as scheduled. Failure to participate in all classes will result in a half-day/full-day absence.
Preparation:
If a household does not have Internet access, please contact the student's building principal or the Technology Department now. Parents and/or students should make teachers aware of the need for a hard copy of the assignment and/or store materials on their devices for offline use.
Google Meet How-To Videos:
Please use the following videos if you need help accessing Google Meets.
High School/Middle School Schedule: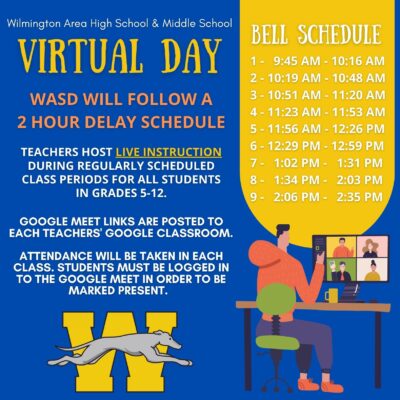 Elementary Schedule: